Now Open!


Welcome to Utah Karate Institute

Members must call or email the school to reactivate and secure your class time.
We are limiting the number of students returning per class for saftey.
See our "Newsletter" Above for details.

New Members
See "Enrollment" above for details!
Reserve your spot NOW! Get your name on a list.


->Teaching "KARATE SHIN-TOSHI"in Utah for over 30 Year!<-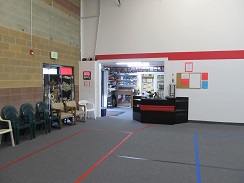 *
*
*
UTAH KARATE INSTITUTE
2440 East 6600 South
Behind Pitchers Sport, Hwy 89
Uintah, UT 84405
(801) 475-7426

Utah Karate Institute is the Headquarters for the Karate Shin-Toshi System.
->"KARATE SHIN-TOSHI"<-
Learn More of The "Karate Shin-Toshi" System Here

We offer Martial Arts classes for ages 8 years old and up!
We are dedicated to teaching our students the life skills they need
to become sucessful throughout their lives.
Been in business since 1986!